Open House - The Real Estate & Mortgage Show: September 18th 2023
Date Posted: September 18, 2023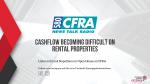 With interest rates being so high, Canadians are having a hard time keeping up with the payments. Those who own rental properties are losing cashflow and having to sell their properties. Rental prices are higher than ever, which means that those who are trying to sell a rental properties are having a hard time getting their tentants to leave.
OSFI introduced the stress test before the pandemic hit, which at the time was a great idea. Now that rates are over 5%, people now need to qualify at 7%-8%. Discussions have risen about modifying the stress test now that rates have potentially hit their peaks to allow more first-time home buyers to enter the market.
To listen to the latest full episode, click here.
Contact your Mortgage Broker today for trusted advice.